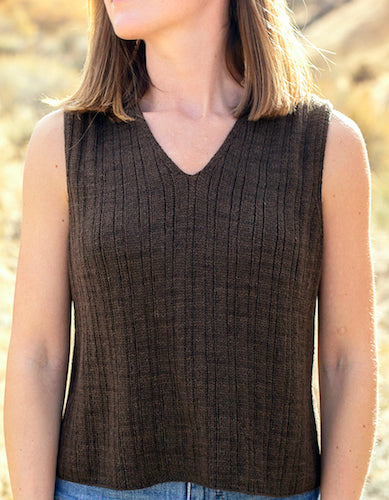 June Cashmere KAL of Millcreek Tank
We're making the Millcreek Tank designed by Tayler Harris because there are so many beautiful details to this design, including knitting and finishing techniques, that will take our knitting to another level.
Knit in our fingering weight yarn, the tank takes fewer skeins of yarn, making it a great first-time garment
Designed to be boxy with 2-5 inches of ease, we can knit this piece with more ease to be a vest or less ease to be a tank 
Knit in 2 pieces, new techniques to learn include seaming, picking up stitches for edge finishing, 3-needle bindoff, German twisted cast-on
All of this with the support of other knitters!
Registration for the KAL is available only to those knitting the tank in our fingering weight cashmere yarn - register at no charge. We offer the Millcreek Tank Kit or if you already have enough of our fingering weight yarn for the tank from a previous purchase but need the pattern, email us at: info@junecashmere.com

Dates of KAL
We'll meet via Zoom every other Sunday beginning April 30 from 5-5:30 pm ET. That's right after Knitting Together. In fact, we're using the same Zoom link (Meeting ID: 848 7784 9096  passcode: cashmere) as Knitting Together to meet. This means you have the option to come early and knit with us!

Join our informational meet-up on April 30 to answer any questions and then kick off our knitting on May 14. Invite all your knitting friends! 
Apr 30 - Preview meet-up to answer any questions
May 14 - Kick off
May 28, June 11, 25 - Knitting  (more sessions if needed)

---