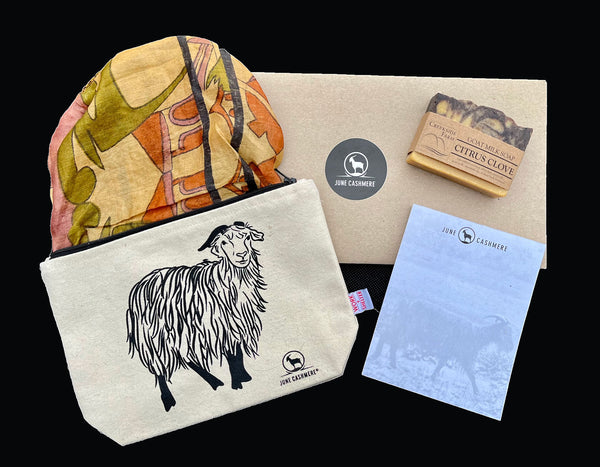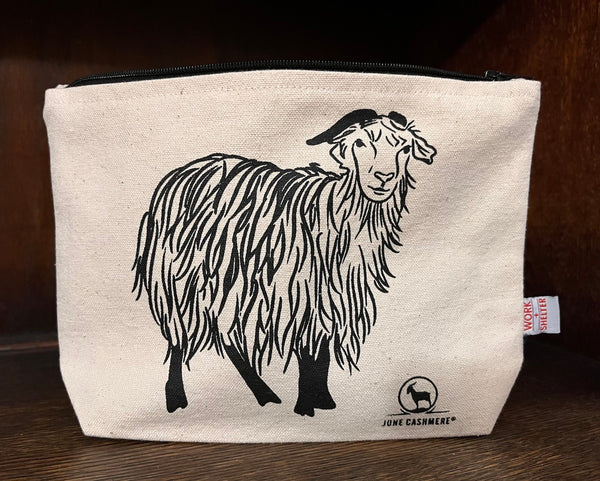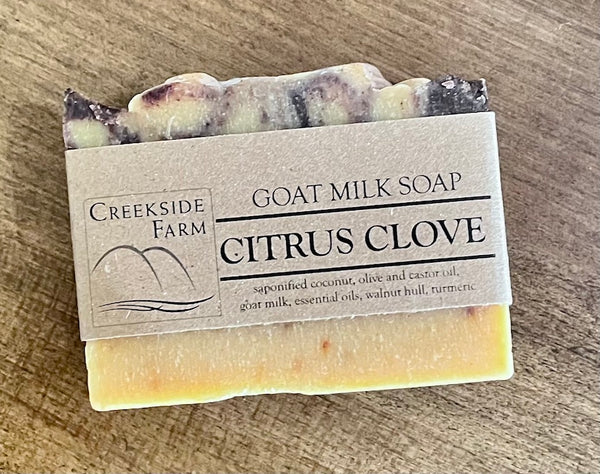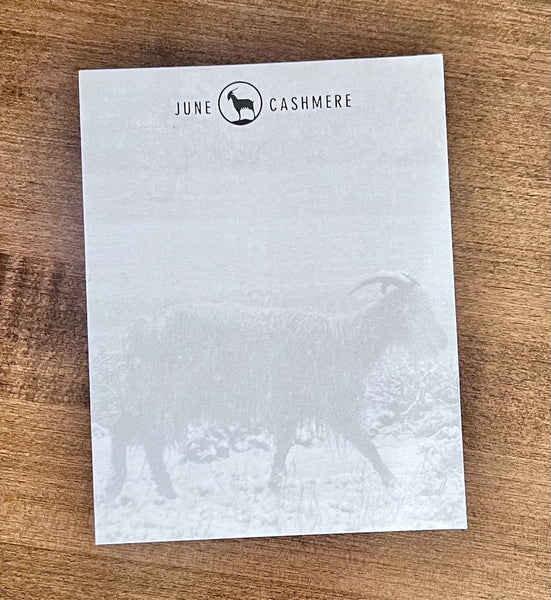 Holiday Gift Package
Description
It's back! And of course—it's goat themed! We created this gift package of fun yet useful items for all to enjoy, curating the items to be meaningful from companies we respect and admire. We themed the package in honor of the native Kyrgyz goat, the source of the fiber for our cashmere yarn.
Our holiday package arrives ready for gifting. With items tucked into a simple Kraft bag with our company logo, we leave the end unsealed so you can check the contents upon receipt, then seal, add your gift tag, and give to the lucky recipient.
Gift Package Contents
Accessory Pouch.

Made by Work & Shelter, a company that employs women in need in India, our stand-up accessory pouch measures 6" x 9" with a 2" bottom gusset and top zipper closure. Made of 5-ounce organic cotton canvas in color natural, the pouch features a delightful rendering of the native cashmere-producing goat of Kyrgyzstan. As a special touch, each bag is lined with beautiful re-purposed silk fabric from vintage saris. Use this pouch for knitting accessories, make-up, your artist pens or writing tools, jewelry, tech accessories – whatever you can think of! It's such a lovely and substantial bag to enjoy and use for a long time to come. Thank you to the women in India for sharing their skills with us! (Note: silk sari linings vary and may come in a solid color or a print design.)
Goat Milk Soap.

We knew we wanted to locally source a beautiful goat milk soap for our holiday package and found the perfect partner in Creekside Farms of Athens, Ohio, who hand make each bar with milk from the goats on their farm. When we tested their different soaps to choose one for this gift package, we found we could do so much with this soap – even washing our hair and our finished cashmere knit garments! So, be creative. Use this soap as a hand or body soap, try it as a shampoo, and absolutely use it to wash your cashmere and other hand washables. Scent: Citrus Clove, 3.5 ounces. Thank you, Creekside Farms, for making such beautiful soap!

Note pad.

We love notepads, possibly even more so in the age of all things digital. We thought you'd enjoy a notepad, too. What better image to bring you cheer for the winter months than a notepad featuring a winter scene of the native Kyrgyz goat. The notepad is printed by Smartpress, the eco-friendly printing company we use for all our printing needs. Notepad is 4.25" x 5.5" with 50 pages. Thank you, Smartpress!