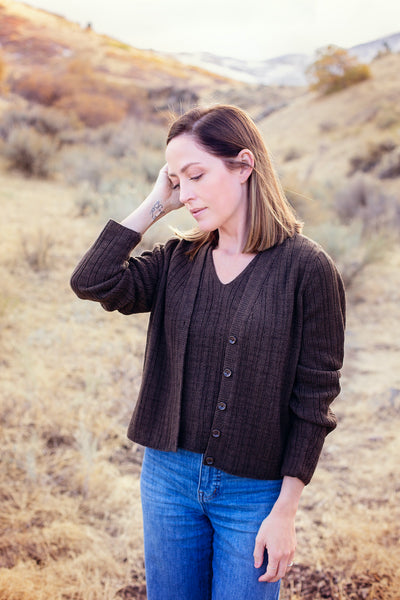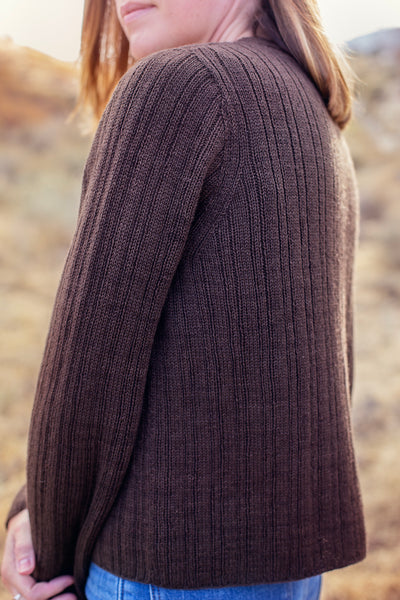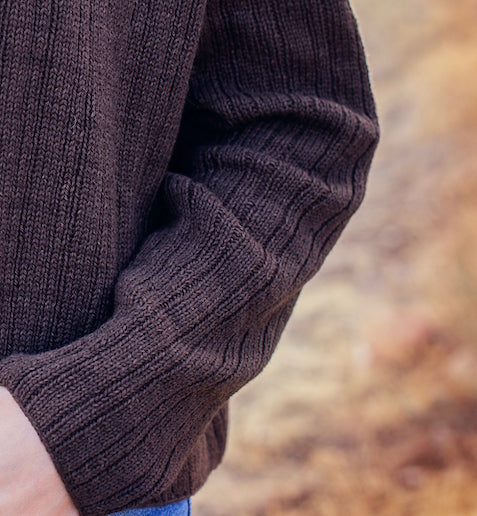 A classic cashmere cardigan - Millcreek Ribbed Cardigan
It's haute couture yet unassuming. It's modern yet classic. The Millcreek Ribbed Cardigan is the perfect cashmere cardigan - timeless, sleek, simple. The shaping and finishing on this piece will elevate your knitting. Designed by Tayler Harris of tayleranneknits for our fingering weight cashmere yarn, you will wear this modern classic design in our soft, lightweight, and warm cashmere for years to come.

Millcreek Ribbed Cardigan has a companion - Millcreek Ribbed Tank - see the pair worn together in the top photo. When you knit both pieces, the result is the perfect cashmere sweater set. See our Millcreek Ribbed Tank kit for knitting details.
Cardigan details: The sweater is worked flat, in pieces, from the bottom up. The neckline, armholes, and sleeves are shaped using decreases and increases, and the shoulders are shaped using Wrap & Turn Short Rows. The shoulders are joined using the 3-Needle Bind Off, the sleeves are seamed into armholes, and the sides are seamed from hem to sleeve cuff. The neckband is worked flat, separately, then seamed to the front of the cardigan. To finish, buttons are sewn onto the neckband.

Shown in June Cashmere Fingering Weight Yarn, Color Espresso, Size 30-32.

Excellent designer support and technique videos found on Tayler Harris's YouTube Channel
Kit includes:
Five to Eleven skeins of June Cashmere's 100% Kyrgyz cashmere Fingering weight yarn based on size 

Digital pattern - Ravelry download code included in mailed kit. We purchase your pattern at full price from the designer for you.

Packaged in our 12" x 12" June Cashmere logo bag made of 100% organic cotton
Actual bust size range in inches (recommended ease +8-10") - Finished bust circumference (FBC); Length from shoulder to hem edge (L)

30-32 - FBC 39.75; L 20.25 (5 skeins)

34-36 - FBC 43.25; L 20.75 (6 skeins)

38-40 - FBC 47; L 21.25 (6 skeins)

42-44 - FBC 50.5; L 22.5 (7 skeins)

46-48 - FBC 54.25; L 23 (8 skeins)

50-52 - FBC 58; L 23.5 (8 skeins)

54-56 - FBC 61.5; L 24.25 (9 skeins)

58-60 - FBC 66; L 24.75 (10 skeins) - Purchase 2, 6 skein kits

62-64 - FBC 70; L 25.25 (11 skeins) - Purchase 1, 6 skein kit and 1, 7 skein kit