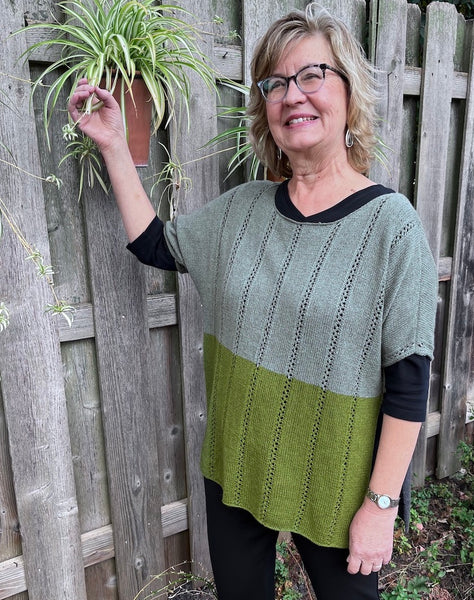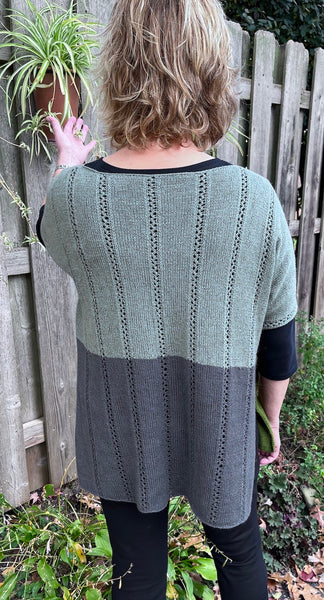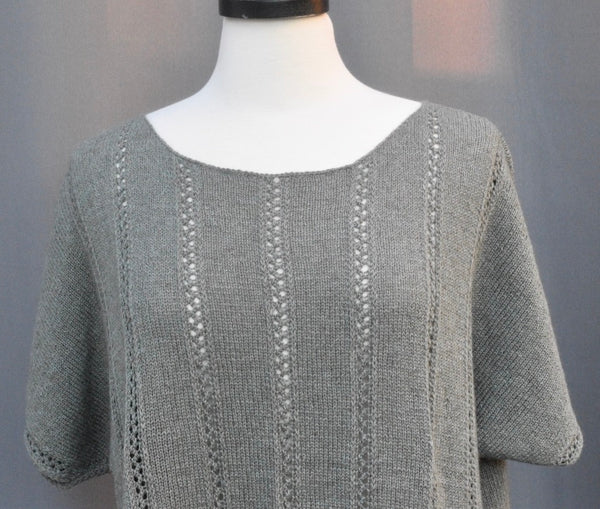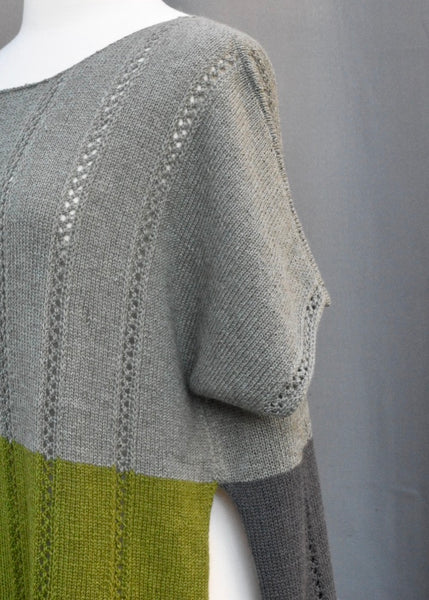 Irrigon - A cashmere sweater to knit
INSTRUCTIONS FOR ORDERING:
Choose the total number of skeins needed based on size. In the notes at check-out, write your desired color names for colors A, B, C. If you wish to knit the sweater in a solid color, please write 'solid' next to your color choice. See fingering weight cashmere colors here: June Cashmere Fingering
Description:
Designed by Shellie Anderson, Irrigon is a sweater for all seasons to knit in June Cashmere fingering yarn. This 3-color sleeveless pullover has the feel of a poncho but is worn more like a sweater. Front and back are worked flat, then joined at the shoulders. Underarm seams are sewn, creating a long vent on each side. The upper body is worked in color A, while the lower body with a high-low hem, uses different colors in the front and back (colors B and C). The sweater features an easy-to-memorize vertical lace pattern.
Shown in June Cashmere Silver Fox, Slate, and Moss Fingering weight yarn.
Skill level: Intermediate
Kit includes:
Six to eight skeins of June Cashmere's 100% Kyrgyz cashmere fingering weight yarn based on size 

Digital pattern - Ravelry download code included in mailed kit. We purchase your pattern at full price from the designer for you.

Packaged in our 12" x 12" June Cashmere logo bag made of 100% organic cotton
SIZES

FINISHED MEASUREMENTS
Bust sizes in inches (recommended ease +8-10"); Finished bust/hem circumference (BHC); Length (L)

32 - 34 BHC 41.75; L 27.75
36 - 38 BHC 46.25; L 28

40 - 42 BHC 50.5; L 28

44 - 46 BHC 54.25; L 28.25

48 - 50 BHC 57.75; L 28.5

52 - 54 BHC 62.25; L 28.75

56 - 58 BHC 65.75; L 28.75

60 - 64 BHC 72; L 29

Number of Skeins needed
Sizes 32-42 Color A: 3, Color B: 2, Color C: 1 (6 total)
Sizes 44-50 Color A: 3, Color B: 2, Color C: 2 (7 total)

Sizes 52-64 Color A: 4, Color B: 2, Color C: 2 (8 total)

INSTRUCTIONS FOR ORDERING:
Choose the total number of skeins needed based on size. In the notes at check-out, write your desired color names for colors A, B, C. If you wish to knit the sweater in a solid color, please write 'solid' next to your color choice. See fingering weight cashmere colors here: June Cashmere Fingering